imbuement that can be made at the Imbuement Table . It requires the armor to have a level of 30 or higher. It appears on all types of armor. Press shift on the armor to see the levels and you get levels by using the armor. I would recommend using a cactus and then repairing your armor. Then once you make the Imbuement Table you put your armor in and then click the bar on the top left. The most efficient way to do it is by putting the the burnout reduction on all 4 piece.
Burnout reduction is a
Here are some screen shots: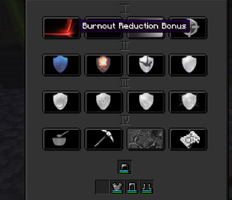 Ad blocker interference detected!
Wikia is a free-to-use site that makes money from advertising. We have a modified experience for viewers using ad blockers

Wikia is not accessible if you've made further modifications. Remove the custom ad blocker rule(s) and the page will load as expected.