Lightning Damage is a Lightning-affinity Component. It is under the Offense tree.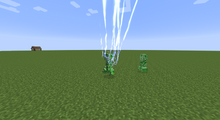 Deals Lightning damage to the target. "Fails" if the target is not a mob. It is possible to hit a mob 10 blocks away with a "Beam-Lightning Damage" combo.
Requirements
Edit
The following spell parts must be unlocked to unlock this Component:
This spell can used to penetrate through normal armor. This spell does not work effectively against TT Kami's Ichorium line of armor.
Ad blocker interference detected!
Wikia is a free-to-use site that makes money from advertising. We have a modified experience for viewers using ad blockers

Wikia is not accessible if you've made further modifications. Remove the custom ad blocker rule(s) and the page will load as expected.