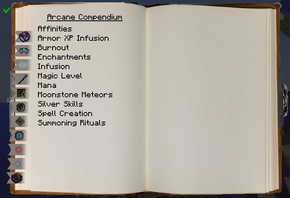 Ars Magica 2 contains a wide variety of mechanics that complement and aid in the main progression of the game, most of which are briefly outlined in the Mechanics page of the Arcane Compendium. These mechanics range from the imbuements of unique abilities into armor, to the summoning of extraordinarily powerful lategame bosses through challenging and complicated rituals.
Affinities are your inclinations towards certain types of magic. Casting spells of certain types increase one of your affinities, reducing the cost of that type of spell, along with additional bonuses and penalties based on the affinity. Affinities can be changed by reading Affinity Tomes.
Whenever you gain experience points, any equipped armor will gain some too. The amount gained is equal to the total amount of XP you just gained divided evenly among all equipped armor pieces. Any armor can gain XP. Stored armor XP can be used at an Armor Imbuement Table.
Burnout is represented by a red bar and is an indication of your magical fatigue. Your maximum burnout increases by magic level. Burnout increases the mana cost of spells by a percentage, and slowly is reduced over time. Spells that take more mana to cast increase burnout by a greater amount.
Enchantments
Edit
Ars Magica 2 adds a few useful enchantments to the game to assist in you ascent to magical mastery. These enchantments are Magic Resistance, and Soulbound.
Infusion
Edit
Not to be confused with Armor XP Infusion, which is an entirely unrelated mechanic. Infusion is a process in which armor specifically from Ars Magca 2 will drain mana from your pool of mana to repair itself. Due to this mechanic, most armor from Ars Magica 2 have low durability and will not last in a prolonged fight. Taking the armor off will cause it to stop infusing; it must be equipped for the mechanic to function. No mana cost is incurred when the armor is at full durability.
Upon obtaining an Arcane Compendium, you gain one magic level. Magic levels increase when you cast spells, going up to 99, and each magic level increases your maximum mana and burnout, along with your rate of mana regeneration and burnout reduction.
Mana is a resource used to cast spells, represented by a blue bar, which regenerates slowly over time. Your maximum mana and rate of regeneration are based on your magic level. Some skills increase mana regeneration, and Life Tap damages you, but gives you mana. Mana can be restored by consuming Mana Potions of various tiers.
Moonstone Meteors
Edit
(Content to be added SoonTM)
Silver Skills
Edit
(Content to be added SoonTM)
Spell Creation
Edit
(Content to be added SoonTM)
Summoning Rituals
Edit
(Content to be added SoonTM)
Ad blocker interference detected!
Wikia is a free-to-use site that makes money from advertising. We have a modified experience for viewers using ad blockers

Wikia is not accessible if you've made further modifications. Remove the custom ad blocker rule(s) and the page will load as expected.