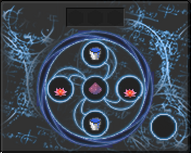 In order to make Water Essence, put two water bottles or two water buckets with two Wakeblooms and one Arcane Ash in the Essence Refiner to get it. This process requires using an obelisk, you will need to pair it to your Essence Refiner. You will have to use 5 Vinteum dust. You can also get Water Essence by killing the Water Guardian boss.
It is a component in the Battlemage Circlet, which is part of the Battlemage Armour Set.
This page needs the Magic Touch.
This article is in serious need of something.
This article is in desperate need of: Crafting Template; Images
Please, if you have the chance and have what it needs, provide for it. Any good mage knows to help an article in need.
Ad blocker interference detected!
Wikia is a free-to-use site that makes money from advertising. We have a modified experience for viewers using ad blockers

Wikia is not accessible if you've made further modifications. Remove the custom ad blocker rule(s) and the page will load as expected.